Jakarta Convention Center or JCC is a convention and exhibition center located in the middle of Jakarta, Indonesia. Established in 1992 (25 August 1992), JCC have more than twenty two years experience of hosting events for some of the world's biggest movers and shakers. JCC premises were originally designed to accommodate 62 heads of state and their delegations for the 10th Non-Aligned Movement Summit in 1992. Since then, JCC have kept abreast of events and communications technology developments, delivering seamless start-to-finish service.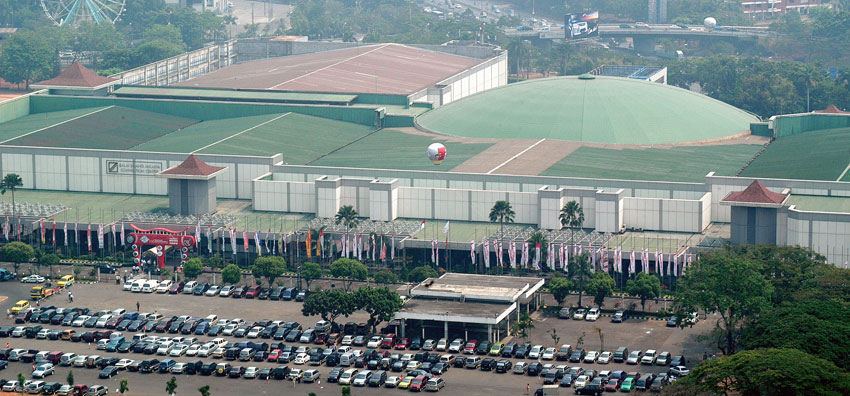 The Balai Sidang Jakarta Convention Center spans around 120,000 sqm and comprises a round theater-style hall (Plenary Hall), two exhibition halls (Exhibition Hall A & B), an Assembly Hall, a banqueting hall (Cendrawasih Room), a spacious main lobby and atmospheric lower lobby, VIP rooms and lounges, and ten further meeting rooms which can be configured to match specific event requirements. The Balai Sidang Jakarta Convention Center also has a business center to support your meetings. Our bonded warehouse facilitates the fast customs clearance of temporarily imported goods. An independent 6,000 space car park is located immediately in front of the convention center, and a selection of mid- to high-range hotels are within walking or short driving distance.
The Jakarta Convention Center is located in the heart of the Indonesia capital and offers a variety of services, including world-class exhibition and conference areas.
Address:
Jl. Jend. Gatot Subroto, Jakarta 10270
P.O. Box 4916, Jakarta 10049, Indonesia
Tlp: +62 (21) 5726000 Faks: +62 (21) 5726523
Website: www.jcc.co.id
Getting to the Venue
Taxi
Taxis are a common method of public transport around Jakarta; the Blue Bird Group for a reasonable fare operates official taxis. Taxi services can be ordered through the Blue Bird Group by calling +6221 7917 1234 / +6221 794 1234.
Online Taxi (Grab, Go-Jek, Etc) is also widely used across Jakarta and can be ordered through the app on your Smartphone.
Bus
There is a TransJakarta station just outside the venue. This TransJakarta runs to a variety of places throughout Jakarta.
Car
The venue is easily accessible by car. it is a 45-minute drive from the Soekarno Hatta International Airport (CGK) & 35 minutes driving from Halim International Airport (HLP).
Shuttle Bus
During the open period of the show the JCC provides 2 x shuttle buses following this route: JCC – Sultan Hotel – Pintu 5 senayan – JCC. The shuttle bus usually waits in front of Gelatik cafe, Assembly entrance, and is available during the open-close hour of the events